The case of the Seijbel organ in the Nationaal Orgelmuseum by Frans Jespers
by Frans Jespers | Het ORGEL | Year 114 | (2018) | Issue 2
Articles
Frans Jespers

The case of the Seijbel organ in the Nationaal Orgelmuseum
Het ORGEL 114 (2018), nr. 2, 14-15 [summary]
The case of the Seijbel organ in the Nationaal Orgelmuseum
Since 2013 the Nationaal Orgelmuseum in Elburg has had an organ that was made by the organ builders Reil, using a southern 18th-century case and historical pipework, most of which is attributed to the 17th-century builder Pieter Backer of Medemblik.
The provenance of the elaborate rococo-style case was already ascertained: it is a case that was taken over in 1850 by Frans Smits of Reek from the St.-Elisabethkerk in Grave, provided by him with a new sounding instrument, and then delivered to the St.-Lambertuskerk of Groot-Linden. In 1915 a new church was built in this village; Verschueren placed Smits's instrument, but not the old case, which ended up in Verschueren's workshop. A new home for the case was found only in 1927: the Evangelisatiegebouw Rehoboth in Den Hulst, again with a new sounding instrument. This organ was also replaced, in 1969. An individual took over the old organ, but sold the case in the 80s to the organ builders Reil, who gave the case a new life in the museum. But who built the case? This article gives an answer.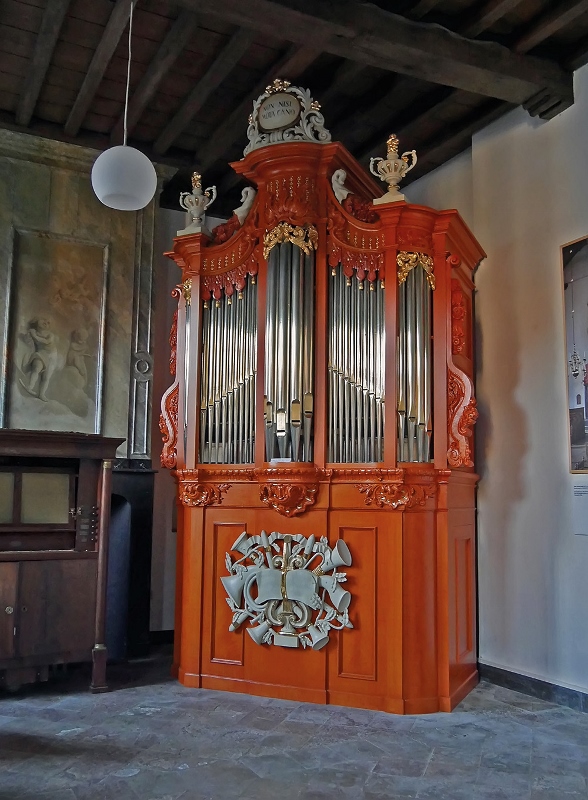 Click at the picture to enlarge