Samuel de Lange, Jr., and protestant hymn singing by Jan Smelik
by Jan Smelik | Het ORGEL | Year 112 | (2016) | Issue 5
Articles
Jan Smelik

Samuel de Lange, Jr., and protestant hymn singing
Het ORGEL 112 (2016), nr. 5, 36-43 [summary]
The name of Samuel de Lange, Jr. is associated predominantly with general musical culture. Although only to a modest degree, De Lange was also active in the field of church music, hymns, and church organ playing. He worked as organist at churches in Rotterdam, Amsterdam and Den Haag. In the 1890s he was active in other ways, which had more than local importance. Just as the Nederlandsche Protestantenbond [Dutch protestant union] had made use of the assistance of Samuel's brother Daniël de Lange (1841-1918) in the compilation of Godsdienstige Liederen, the Waalse kerken asked Samuël to help with their new collection, which was published in 1891: Psaumes et cantiques pour le culte public des Eglises wallones. De Lange wrote various 4-voiced settings for this collection, to accompany congregational singing on the organ or for vocal performance. These were simple settings which suited the 19th-century ideal of 'true church music'.
The work of Samuel de Lange Jr. on two collections for the Nederduitse Gereformeerde Kerk [Dutch reformed church] in South-Africa was more extensive. He made a chorale book with settings for the Evangelische Gezangen which had been used in South-Africa since 1834. More interesting, however, was Het Boek der Psalmen, which was published in 1895 in Cape Town and in 1899 in the Netherlands.
For this collection De Lange composed not only – unwillingly – 29 new melodies to replace the Genevan psalm melodies, which were considered unsingable, but he also provided a modernized notation for the 16th-century psalm melodies. This notation was published when the Nederlandse Hervormde Kerk [Dutch Reformed church] decided to prepare a collection with a modern, practical notation of the psalm melodies. This collection was prepared by J.G.R. Acquoy and appeared in 1899. Comparison of his notation with De Lange's shows that the latter offered a more modern and more historically accurate notation.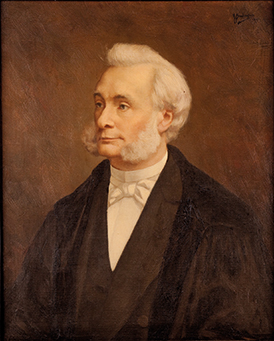 Johannes Gerhardus Rijk Acquoy – Painting collection Universiteit Leiden