The 8 organ sonatas van Samuel de Lange, Jr. by Gerben Budding
by Gerben Budding | Het ORGEL | Year 112 | (2016) | Issue 5
Articles
Gerben Budding

The 8 organ sonatas van Samuel de Lange, Jr.
Het ORGEL 112 (2016), nr. 5, 16-25 [summary]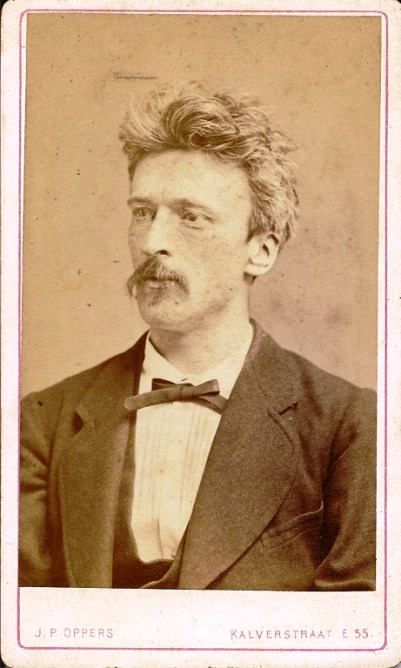 The organ works of De Lange Jr. include twenty-four opus numbers and a number of works without opus number. Besides the 8 organ sonatas, the most important are the extended preludes/fantasies and fugues, variation sets, character pieces, a chorale book, and a pedal method. A complete opus list can be found at www.stichtingdelange.nl .
In the compositions of De Lange Jr. there can be observed a development of style. In the early organ works, e.g. the first three sonatas, we can clearly hear the influence of De Lange Sr., who stood in the tradition of the so-called Leipzig School of composers such as Felix Mendelssohn-Bartholdy (1809-1847), Friedrich Schneider (1786-1853), and Carl Ferdinand Becker (1804-1877). Following Mendelssohn's lead, there was among composing organists an increasing interest in the music of Johann Sebastian Bach. In the compositions we can recognize this orientation toward Bach in the preference for classical forms like fugue and canon.
In the later opus numbers of De Lange Jr., e.g. sonatas V-VIII, the Concertstück opus 82, and 12 preludes and fugues opus 90, we also see influences of Johannes Brahms (1833-1897) en Franz Liszt (1811-1886).
The 8 organ sonatas of De Lange Jr. were published by German and Dutch firms between 1870 and 1903. The article discusses the sonatas, their place in De Lange's organ oeuvre, their relationship to other 19th-century organ sonatas, and the significance of the organ works of De Lange within the whole organ repertoire.
The first 3 sonatas were composed when De Lange Jr. was organist at the C.G.F. Witte organ of the Waalse Kerk in Rotterdam, the fourth and fifth during his tenure in Köln as organist and theory teacher at the conservatory. Here he became acquainted with Johannes Brahms, Max Bruch (1838-1920), and others. The fifth sonata is dedicated to Brahms. De fourth, dedicated to the American organist H. Clarence Eddy, was probably written for the hundredth concert that Eddy gave on the organ of the Hershey School of Musical Art in Chicago. The sixth sonata was composed in Den Haag, where he intensively studied the organ works van J.S. Bach while he served as organist of the Remonstrantse Kerk. Sonatas 7 and 8, the latter dedicated to Straube, were composed in Stuttgart, where he was director of the conservatory.
After the discussion of the sonatas, the author treats the performance practice of the organ works of De Lange.
Below examples from the CD-box Gerben Budding made of the organworks of Samuel den Lange jr.
More information about this box::http://landgoedgerianna.nl
Sonate I 1 Maestoso
Sonate I 2 Andante
Sonate I 3 Finale
Sonate II 1 Allegro Moderato
Sonate II 2 Andante
Sonate II 3 Fuga
Sonate II 4 Lento
Sonate III 1 Allegro
Sonate III 2 Andante
Sonate III 3 Finale
Sonate IV 1 Allegro
Sonate IV 2 Lento assai
Sonate IV 3 Tempo giusto
Sonate IV 4 Variatie 1
Sonate IV 5 Variatie 2
Sonate IV 6 Variatie 3
Sonate IV 7 Finale
Sonate V 1 Maestoso
Sonate V 2 Andante
Sonate V 3 Finale
Sonate VI 1 Moderato
Sonate VI 2 Andante
Sonate VI 3 Allegro
Sonate VII 1 Andante
Sonate VII 2 Allegro non troppo
Sonate VII 2 Allegro non troppo
Sonate VII 4 Piu Moderato
Sonate VIII 1 Maestoso
Sonate VIII 2 Andante sostenuto
Sonate VIII 3 Vivo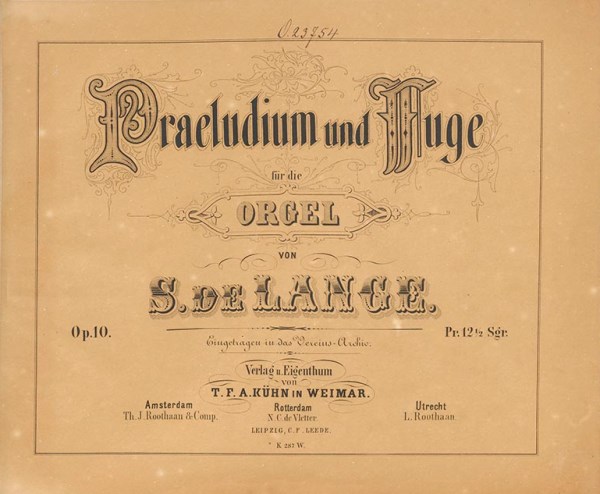 Samuel de Lange jr. Opus 10