Life and work of Samuel de Lange, Jr. (1840-1911) by Laura de Lange
by Laura de Lange | Het ORGEL | Year 112 | (2016) | Issue 5
Articles
Laura de Lange

Life and work of Samuel de Lange, Jr. (1840-1911)
Het ORGEL 112 (2016), nr. 5, 4-11 [summary]
Samuel de Lange, Jr. was raised in a musical family. His father, Samuel de Lange, Sr., (1811-1884), worked in Rotterdam, first as assistant organist of the Lutheran church, later as organist of the Waalse Kerk (Hoogstraat), the Zuiderkerk, and the Grote or St.-Laurenskerk. Both Samuel Jr. and his younger brother Daniël were given a thorough musical education. Samuel had a great talent for piano and organ. His brother Daniël had, besides all his lessons at home, cello lessons with Simon Ganz. At about the age of ten the brothers were given composition lessons as well, first with Dupont, later with Johannes Verhulst, who had been a pupil of Mendelssohn. Alexander Winterberger (1834-1914), a pupil of Franz Liszt, visited the De Langes regularly and was one of the organ teachers of Samuel Jr.
The brothers De Lange gained international fame toward the end of the 1850s as a cello-piano duo. When they returned to Rotterdam in 1863, each went his own way.
Samuel stayed in Rotterdam and immersed himself in the city's musical life, as teacher and performer: on the piano as soloist and in chamber music, and on the organs of the Waalse Kerk, the Zuiderkerk, and the Laurenskerk. His career as an organist had great success from 1863, and he performed in Haarlem, Delft, Utrecht, Den Haag, Basel, Leipzig, and elsewhere.
Just as his father had done, Samuel Jr. worked to publicize the music of Johann Sebastian Bach in the Netherlands. He was also a strong advocate of his friend Johannes Brahms.
From 1874 until 1885 Samuel de Lange worked abroad (Basel, Paris, Köln). When the "Neudeutsche Schule", with which Samuel had no affinity, became more and more influential in Köln, he returned to the Netherlands. He became director of the Den-Haag chapter of the Maatschappij tot Bevordering der Toonkunst (Society for the Promotion of Music). But Samuel didn't always feel at home in the Netherlands. German musical life held his interest. In 1893 he left for Stuttgart, where he taught at the Royal Conservatory.
De Lange's oeuvre consists of some 700 works, composed mostly in Köln and Stuttgart. He wrote works for piano solo, chamber music for many combinations, among which 13 string quartets, 5 symphonies, solo concerti, and much vocal music, songs and choral works, some with orchestral accompaniment. For organ he composed sonatas, short pieces, preludes and fugues, variations, and pedal etudes. All his works are in the German romantic tradition of Mendelssohn (via his teacher Verhulst) and Brahms.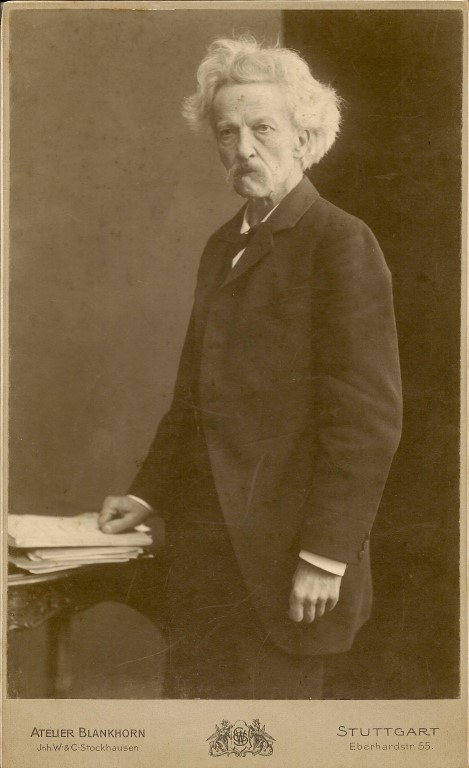 Samuel de Lange jr june 1904 in Stuttgart