The organ builders Van Hagerbeer. Part 02 by Auke H. Vlagsma
by Auke H. Vlagsma | Het ORGEL | Year 112 | (2016) | Issue 2
Articles
Auke H. Vlagsma

The organ builders Van Hagerbeer. Part 02
Het ORGEL 112 (2016), nr. 2, 26-31 [summary]
The second part provides an overview of the work of the Van Hagerbeers, including both new instruments and repairs. The overview shows that the organ making family worked in the regions Holland, Utrecht, and somewhat less in Noord-Brabant. The Van Hagerbeers did not work in Friesland, Drenthe, Overijssel, Limburg or Zeeland.
The work of Galtus Gemers van Hagerbeer is discussed, including the restoration of the organ in the St.-Catharinakerk in Nijkerk and the new organ in the St.-Jacobskerk in 's-Gravenhage.
There follows the beginning of a discussion of the work carried out by father Galtus and son Germer van Hagerbeer together. Instruments in the St.-Bavokerk in Haarlem and the St.-Janskerk in 's-Hertogenbosch are discussed.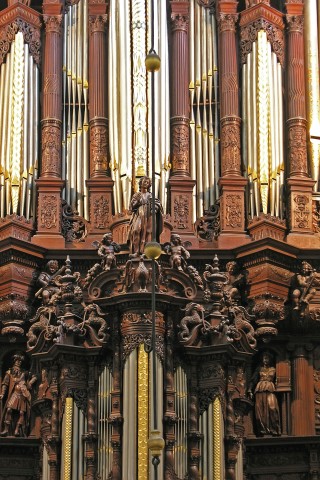 Detail organ St. in 's-Hertogenbosch Photo: Jan Smelik