Roman Catholic church music of the 19th century and the organ by Anton Vernooij
by Anton Vernooij | Het ORGEL | Year 111 | (2015) | Issue 6
Articles
Anton Vernooij

Roman Catholic church music of the 19th century and the organ
Het ORGEL 111 (2016), nr. 6, 4-9 [summary]
In the 19th century the services of the Roman Catholic church evolved turbulently, not so much in liturgical forms, since these were fixed until far into the 20th century in the Latin Missale Romanum of the Council of Trente (1545-1563). The new era manifested itself primarily in the musical expressions. The great change was completed around the middle of the 19th century with the breakthrough of romanticism, devotionalism, and piety. These developments progressed parallel with those in the protestant world, the great difference being the influence of the turbulent catholic emancipation, which manifested itself in triumphalism and neo-gothic church architecture.
This article is particularly dedicated to the church music of the second half of the 19th century, the time of Michaël Maarschalkerweerd (1838-1915), who as Roman Catholic organ builder underwent not only German and especially French influences, but also had to suffer the influence of the church music culture in the Netherlands of his own time and the immediate past.
Four aspects are treated in which the organ plays a greater or smaller role. Following a sketch of the state of liturgy and church music at mid-century, which also left its traces in the sounds of organs, the renewal of the liturgy is described, which brought forth the Caecilian movement.
The church's protest against abuses in the liturgy, church music, and the use of the organ is formulated in the Acta of the Provincial Synod which was held in 1865 in Den Bosch.
Attention is given, finally, to practical church music policy of the time, specifically as regards the establishment of the Dutch Sint-Gregoriusvereniging (Saint Gregory association) in 1874.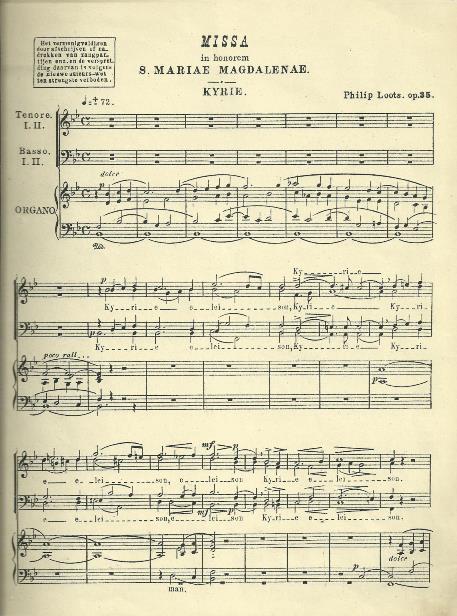 Philp Loots Magdalenamis (Click at the picture to enlarge)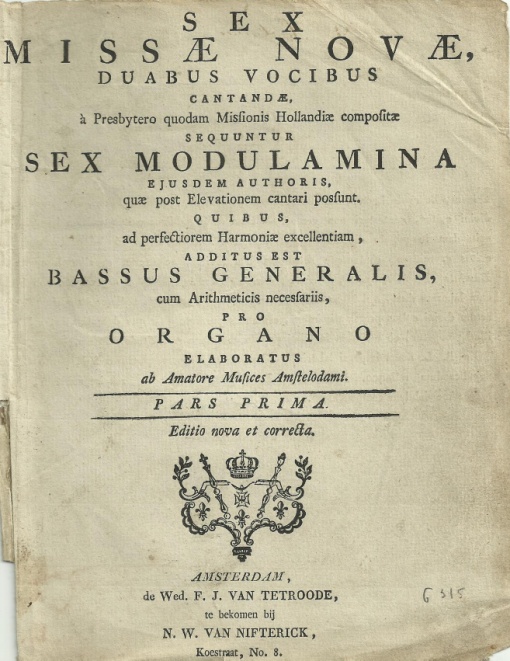 Amsterdamse masses