The organ in the vocal, liturgical oeuvre of Johann Sebastian Bach (I) by Jan Smelik
by Jan Smelik | Het ORGEL | Year 111 | (2015) | Issue 1
Articles
Jan Smelik

The organ in the vocal, liturgical oeuvre of Johann Sebastian Bach (I)
Het ORGEL 111 (2015), nr. 1, 4-13 [summary]
The organ played a central role in the life and work of Johann Sebastian Bach. This is apparent not only from his compositions for solo organ, but also from the fact that this instrument played an important role in Bach's vocal, liturgical works. The organ was in any case considered in the time of Bach as an essential instrument in church music.
The majority of Bach's religious vocal music was composed in Leipzig, where Bach was cantor et director musices from 1723 to 1750. Most of these works were performed in the Thomaskirche and the Nicolaikirche. The Thomaskirche had two organs in Bach's time: the large organ stood on the stone gallery at the west end. Left and right of this gallery were two small, raised galleries, built for the municipal musicians and the string players. In addition, the Thomaskirche had a small organ, that since 1638 occupied a place above the triumphal arch at the east end of the nave. This instrument was in bad condition, and was removed around 1740.
The organ in the Nicolaikirche was from 1597, and had been revised several times; during Bach's time by Johann Scheibe and Zacharias Hildebrandt.
The article discusses the functions of the organists in the churches of Leipzig, using the order of service that Bach wrote down in 1723 on the back of the title page of Cantata 61. The organists were required, among other things, to play basso continuo for the vocal music. The continuo part was played on the large organ, and not as in our day on a chest organ.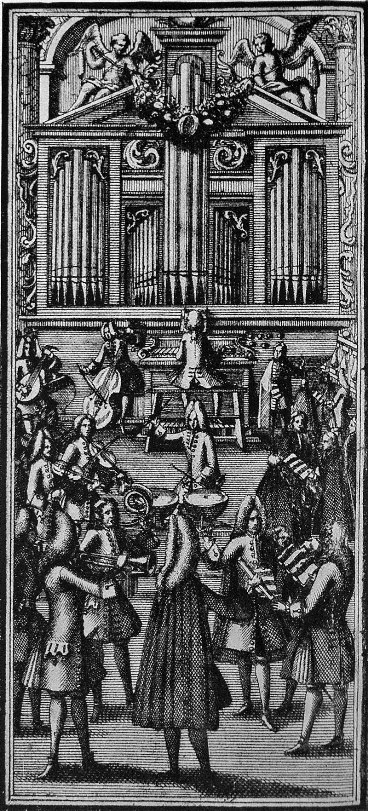 Engraving from Unfehlbare Engel=Freude oder Geistliches Gesang-Buch (Leipzig 1710)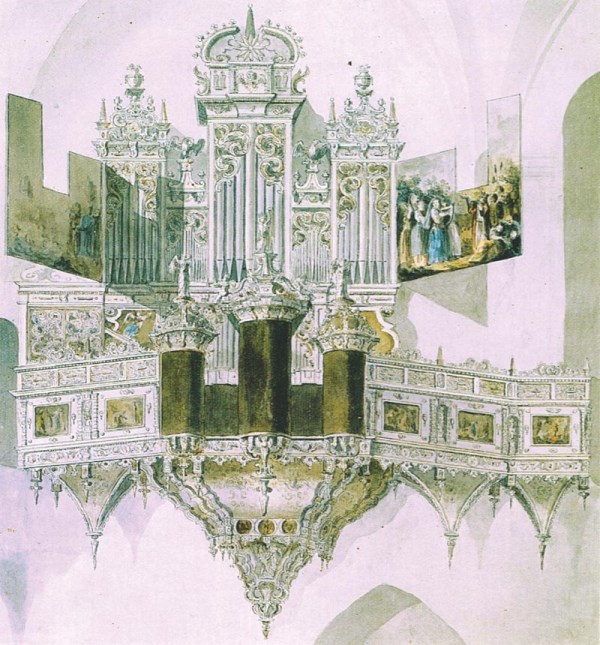 The Lange-organ in the ThomaskircheLeipzig to awatercolor byCarl Benjamin Schwarzfrom 1785