Andreas and Marten de Mare, Renaissance Organ Builders – Deel 1: Introduction and works of Andreas de Mareby Auke H. Vlagsma
by Auke H. Vlagsma | Het ORGEL | Year 109 | (2013) | Issue 6
Articles
Auke H. Vlagsma

Andreas and Marten de Mare, Renaissance Organ Builders – Deel 1: Introduction and works of Andreas de Mare
Het ORGEL 109 (2013), nr. 6, 36-41 [summary]
After the Reformation in the 16th century, many organ makers left The Netherlands to seek work in Germany. One of these was Andreas de Mare from Gent, who had previously had enough work in the northern Netherlands because the Spanish troops, who hindered the Reformation, reigned there much longer, in Groningen even until 1594. Andreas worked both in the city of Groningen and in the province. His work is known in the city (1558, the Der Aa-Kerk), in Midwolda between 1564 and 1566, and in 1578 in Zuidbroek. In 1566-7 he enlarged his terrain to include the Lutheran area of Ostfriesland, where he built his first organ in St.-Ludgeri in Norden. In 1577-8 he rebuilt the organ in the Grote Kerk of Emden with his son Marten. Later they worked together in Verden, in Bremen, and even later in Hannover, Stadthagen and Loccum. Andreas died in 1599. Marten became a citizen of Bremen in 1595. When the opportunities for work in Ostfriesland also diminished, the De Mares moved to Hannover.
The article provides a list of Andreas de Mare's works, which was composed from secondary sources and new research in archives and on the internet.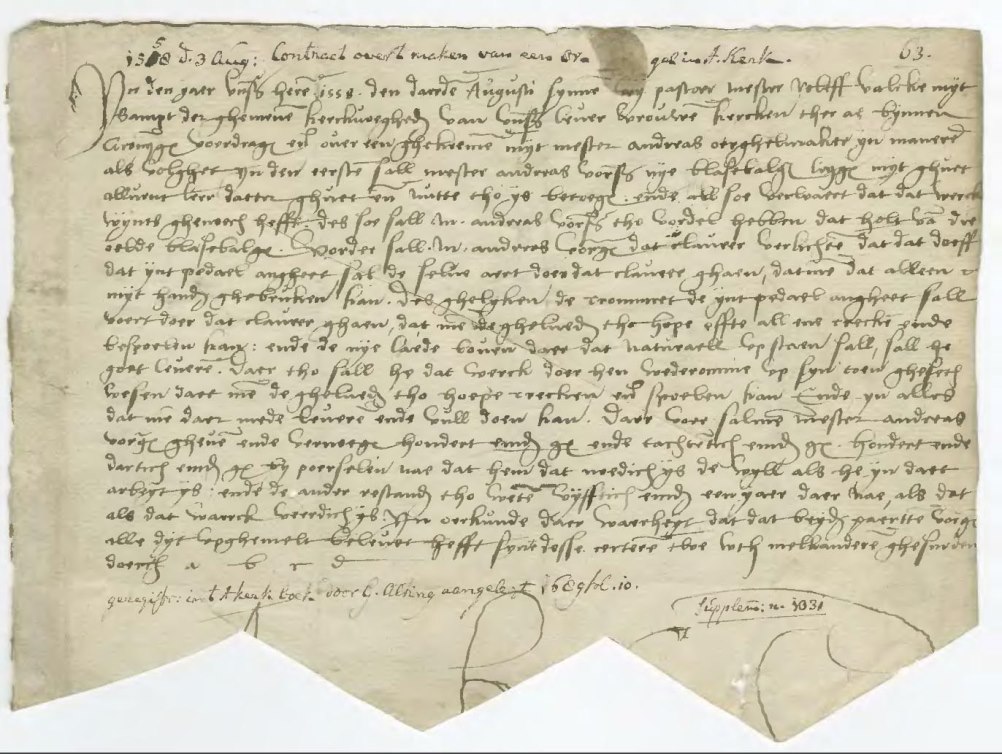 The contract between Andreas de Mare and the churchauthorities of the Onze-Lieve-Vrouwenkerk in Groningen d.d. 3 august 1558
"Clicking" on the picture will give a bigger picture.