Felix Mendelssohn Bartholdy and the chorale. Part 3: From text to explanation in the Six Grand Sonatas, op. 65,4-6 by Albert Clement
by Albert Clement | Het ORGEL | Year 106 | (2010) | Issue 6
Albert Clement

Felix Mendelssohn Bartholdy and the chorale. Part 3: From text to explanation in the Six Grand Sonatas, op. 65,4-6
Het ORGEL 106 (2010), nr. 6, 12-30 [summary]
Felix Mendelssohn Bartholdy and the chorale. Part 3: From text to explanation in the Six Grand Sonatas, op. 65,4-6
This final part of a triptych studies how Felix Mendelssohn Bartholdy treated the chorale in the last three sonatas of Opus 65.
In Sonata IV Mendelssohn uses no chorale, but possibly in compensation this sonata contains the only movement in the six entitled 'Andante religioso'.
Sonata V contains a chorale constructed by Mendelssohn. Researchers have incorrectly related this chorale to the chorale melody of 'Alle Menschen müssen sterben'; but there are good arguments for assuming that Mendelssohn's chorale in Sonata V is related to the melody of the song 'Dir, dir Jehova will ich singen' by Bartholomäus Crasselius (1667-1724).
Armin Koch, in his study Choräle und Choralhaftes im Werk von Mendelssohn Bartholdy (Göttingen 2003), asserted that it would be a mistake to think that Sonate VI was based on the song 'Vater unser im Himmelreich'. Using as evidence an earlier chorale setting of Mendelssohn, above which the composer wrote ´Nimm von uns Herr', Koch contends that Sonata VI is an autonomous composition.
But there are good arguments for maintaining that Sonata VI is a setting of the song 'Vater unser im Himmelreich'. Using Luther's exegesis of 'Vater unser' to illuminate a rhetorical analysis of the music, one can present valid arguments that Mendelssohn set the fourth line ('Dein Will' gescheh', Herr Gott! zugleich') of 'Vater unser' in variation I of Sonata VI. In the same way one can contend that variation II was composed to the 5th line of the song, and variation III to the 6th. The fugue is a setting of the Amen. In the final movement of the sonata Mendelssohn used the melody of the hymn 'When I survey the wondrous Cross'.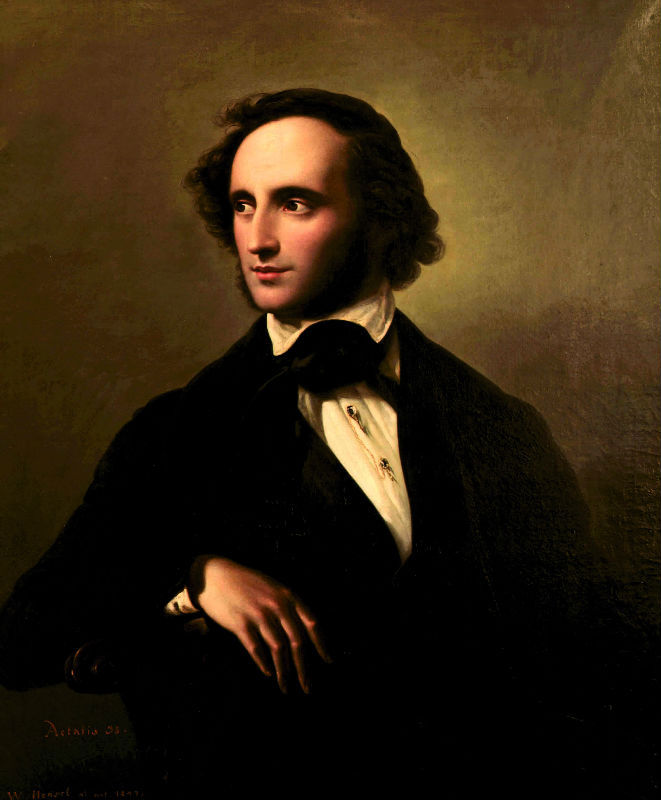 Felix Mendelssohn Bartholdy, painted in 1847 by his brother-in-law Wilhelm Hensel. Stadmuseum Düsseldorf.

Graves of the Mendelssohn-family at the Dreifaltigkeitskirchhof in Berlin-Kreuzberg. The grave in the middle is of Felix Mendelssohn Bartholdy