Het Knipscheer-orgel of the Noorderkerk at Amsterdam by Cees van der Poel & Rogér van Dijk
by Cees van der Poel & Rogér van Dijk | Het ORGEL | Year 102 | (2006) | Issue 2
Cees van der Poel & Rogér van Dijk

Het Knipscheer-orgel of the Noorderkerk at Amsterdam
Het ORGEL 102 (2006), nr. 2, 28-33 [summary]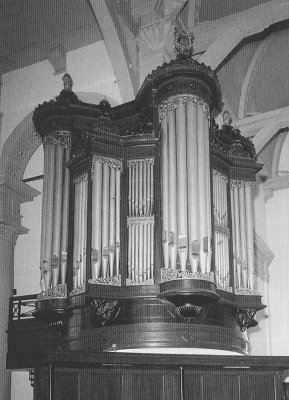 In 2005, Flentrop restored the 1849 Knipscheer organ in the Noorderkerk at Amsterdam. Consultants were Henk Kooiker and, on behalf of the Dutch National Heritage Service, Rudi van Straten and Wim Diepenhorst.
The organ, with 28 stops on two manuals and pedal, is the largest that Hermanus II Knipscheer ever built. It has a classical orientation.
After having repaired the organ several times, the firm of Flaes & Brünjes renovated the instrument in 1878. In 1905, the organ builder Steenkuyl placed a new pneumatic key action. A century later, Flentrop made a new tracker key action.
The layout of the organ is remarkable: it is built around a pillar.