Organ Building Firm Bakker & Timmenga celebrates 125th anniversary
by Rogér van Dijk and Cees van der Poel | Het ORGEL | Year 102 | (2006) | Issue 1
Rogér van Dijk and Cees van der Poel

Organ Building Firm Bakker & Timmenga celebrates 125th anniversary
Het ORGEL 102 (2006), nr. 1, 4-17 [summary]
125 years ago Fokke Bakker and Arjen Timmenga founded an organ building firm at Leeuwarden. In 1901, Bakker left the company; in 1919, his place was taken over by Timmenga's son Bernard. In 1960 the firm was brought to life again by Wopke Yedema and Harm Pieter Dam; Yedema's son Bert has been in charge since 1991. The company maintains a special position among the many Dutch organ builders, since it kept building tracker organs in the early 20th century and also because it has successfully evolved into a restoration workshop. Important projects were the restorations of large organs such as the ones at Kampen (Bovenkerk, 1975) and Leeuwarden (Jacobijnerkerk, 1978).
More recently Bakker & Timmenga restored the organs of the Waalse Kerk at Leeuwarden (Schwartzburg, 1740), Dronrijp (Bader, 1659) and Muntendam (Van Oeckelen, 1864). Consultants were Jan Jongepier (Leeuwarden and Dronrijp, both restored in 2002) and Stef Tuinstra (Muntendam, 2004).
Characteristic of these restorations is that the sounds of the organs don't have even the slightest touch of a 'Bakker & Timmenga character'; this is a major compliment for this small company.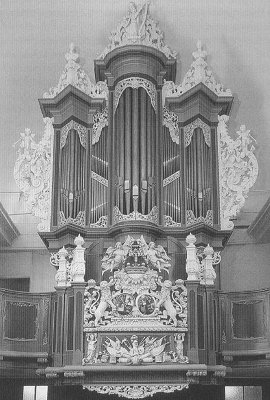 Leeuwarden, Waalse kerk