Jean-Baptiste de Pauw by René Verwer and Herman de Kler
by René Verwer and Herman de Kler | Het ORGEL | Year 101 | (2005) | Issue 4
René Verwer and Herman de Kler

Jean-Baptiste de Pauw
Het ORGEL 100 (2005), nr. 4, 4-46 [summary]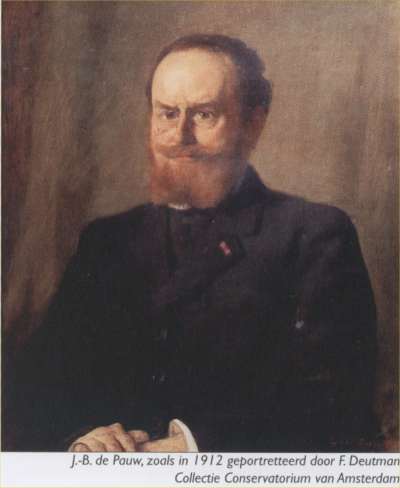 Organist and pedagogue Jean-Baptiste de Pauw (1852-1924) was born in Brussels to parents who were interested in art and music. After the music lessons from his father, De Pauw studied at the Royal Conservatory in Brussels from 1864 to 1873. His main teacher for organ and piano was Alphonse Mailly. De Pauw was appointed organist of the St.-Bonifatiuskerk at Brussels in 1872. He entered the composition contest for the Prix de Rome three times, but his works, for example the cantata Camoëns, received only second prizes. Was this why he left Belgium? Did A. Heinze tempt him to leave for the Netherlands? Did Mailly advise him to do so?
In 1879, De Pauw was appointed organist of the Cavaillé-Coll organ (1875) in the Amsterdam Paleis voor Volksvlijt. Such an appointment, as an organist at a secular institution, was unique in the Netherlands at that time. De Pauw gave recitals at the Palace every week, most of the time with the Palace Orchestra, directed by J.M Coenen, and soloists. He played all music by heart; he chose original organ works by Bach and Handel, as well as transcriptions – a practice resembling the organ culture at English Town Halls. Although the contribution of the 'southern' organist De Pauw was rather modest, it was at this time that the French romantic organ school conquered its own place in the Netherlands, next to the German role. Apart from Belgian and French organists, some Dutch organists contributed considerably; especially Louis Robert and Evert Cornelis (pupils of De Pauw).
In 1895, the Palace Orchestra was dissolved. This meant in fact the end of the concert career of De Pauw; he only played a few times after that, for example in the Concertgebouw at Amsterdam. De Pauw did not play in churches: we have no references to organ concerts given by him in churches, or to an appointment as church organist (De Pauw was a Catholic, his wife was Dutch reformed). In 1886, the town of Haarlem asked him to apply for the position of concert and church organist of the reformed Grote Kerk. He declined because of his full agenda.
De Pauw was famous as an organ and piano teacher. He was appointed as such at the Amsterdam Conservatory in 1884, which had been established earlier that year. The Conservatory was the first professional music school in the Netherlands. Other institutions, such as the successful Royal School of Music at The Hague (established in 1826), were more directed to amateurs. De Pauw educated not only organists, but pianists as well, e.g. Willem Andriessen and Eduard van Beinum. Perhaps hindered by the fact that the Conservatory lacked an organ for a long time (it was not until 1917 that one was built) and by competition from the Institution for the Blind, organ instruction at the Amsterdam Conservatory got off to a slow start. Cornelis Pameijer was the first organist to leave the Conservatory with a diploma; that was in 1896. Other organists who were to become famous later on followed him, like Louis Robert, Cornelis de Wolf and Anthon van der Horst. Organ lessons were given in the Palace and later in the Concertgebouw. The repertory that was studied reflected the taste of the time: at first it concentrated on Bach, Handel and German Romantics; later the French Romantics were added (Franck quite late).
Ecclesiastical organ music, although promised by the curriculum, was not really a serious offering at the Amsterdam Conservatory. After De Pauw's death, this led to a intriguing debate among protestants.
De Pauw's orientation toward concert music is shown by his emphasis on the international evaluation required by the Prix d'excellence. The first organist to win this prize was Cornelis de Wolff (1901). Later on, Louis Robert, Evert Cornelis and others followed.
De Pauw occupied a dominant position in the Dutch organ culture of his time, as did some of his colleagues. Comparison with his only colleague who had a similar position, J.A. de Zwaan, who taught at the Royal Conservatory at The Hague, shows both considerable similarities and differences. Whereas De Pauw added notes to scores without a blush, De Zwaan refused to; whereas De Pauw played arrangements, De Zwaan did not – and taught liturgical organ music. Both had, in their own ways, their significance for Dutch organ culture.
De Pauw educated organists until the end of his life. He died at 72. How beloved he was, is shown by many preserved reminiscences. Cor Kee, for example, remembers De Pauw from the perspective of his own early departure from the Amsterdam Conservatory as the result of a disagreement with De Pauw about Bach interpretation; his story is nevertheless characterized by respect. Daniël de Lange's article on De Pauw from 1904 is an interesting story in its own right. De Lange, who was a colleague and a friend of De Pauw, gives much interesting information about 'this individualistic man, this highly talented artist.'
Of Jean-Baptiste De Pauw's organ works only Rève d'amour is at all well known. De Pauw was succeeded at the Conservatory by his pupils Anton Tierie (ad interim), Cornelis de Wolf, Jan Nieland, Jacob Bijster and Anthon van der Horst.