'Can I pump?!' Utopa's organ course by Hans Fidom
by Hans Fidom | Het ORGEL | Year 99 | (2003) | Issue 5
Hans Fidom

'Can I pump?!' Utopa's organ course
Het ORGEL 99 (2003), nr. 5, 24-27 [summary]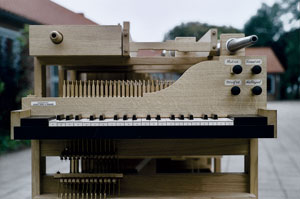 In 2001, Loek Dijkman, initiator of the Dutch Foundation Utopa, developed a plan to introduce organ building and organ music to 50,000 children. Utopa's general aim is to contribute to the balance it thinks to be essential for our society to be healthy, by supporting certain aspects of it; one of these aspects is, according to Utopa, organ culture. Loek Dijkman developed the practical aspects of this plan mainly with organist Johan Luijmes. 
The result is a one-hour course that is offered to primary schools. The organ builder Reil built a small organ with a three-octave 4' Flute and 2' Octave, a Rossignol, two trumpet-pipes and a subbass-pipe. There is no case, so the operation of the wind system, the chest and the trackers can easily be shown. The instrument can be moved around from school to school easily in a custom-made trailer. 
In a pilot project, Johan Luijmes and Els van der Meij organised a series of courses at primary schools in the city of Arnhem. The project was a success, as 1500 children have seen, played and pumped the organ and as the schools are very enthusiast about it. Thus, the Utopa organ will from now on travel through The Netherlands: organists will 'own' the instrument for a couple of months and visit schools in their regions with it.