The organ builder Albert de Graaf by Rogér van Dijk
by Rogér van Dijk | Het ORGEL | Year 98 | (2002) | Issue 5
Rogér van Dijk

The organ builder Albert de Graaf
Het ORGEL 98 (2002), nr. 5, 5-11 [summary]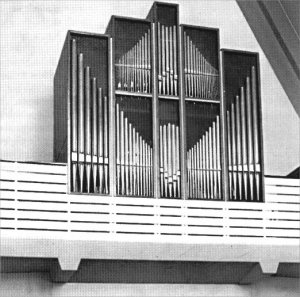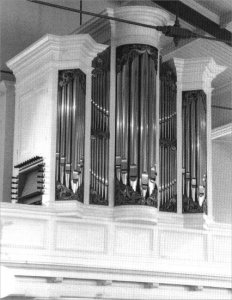 Organ Builder Albert de Graaf (1928) is planning to retire in near future; hence this overview of his work.
De Graaf served his apprenticeship with A.S.J. Dekker (Goes) and Jan Kunst (Arnhem). He took over Kunst's firm in 1955. He preferred his firm not to grow, which enabled him to work on his ideal of saving valuable historic organs in relative peace.
De Graaf started doing repairs. He travelled to Denmark in 1958 with the organist Johan van Dommele. About the same time he met the consultant Klaas Bolt – Bolt in particular would turn out to be a great influence.
The success of the new electro-pneumatic De Graaf organ in the Reformed Church at Wageningen (1961) made the Reformed Organ Committee accept him as a good [DCC1]organ builder. The restoration of the Bakker & Timmenga organ from 1906 at Suameer (1965) induced the National Monumenet [DCC2]Service do the same: it was permitted that De Graaf restored the Müller organ from 1767 in the Reformed Church at Wissenkerke (1968).
De Graaf worked often with Klaas Bolt. Among his many restoration projects, several deserve special attention: Finsterwolde (Freytag organ from 1808, restored in 1972), Katwijk (reconstruction of a Bätz organ from 1765, 1982), Bellingwolde (Freytag organ from 1798 , 1992) and Niehove (Wenthin organ from 1816, 2001).