Two recent organ projects in Brussels / an impression by Wannes Vanderhoeven
by Wannes Vanderhoeven | Het ORGEL | Year 97 | (2001) | Issue 6
Wannes Vanderhoeven

Two recent organ projects in Brussels / an impression
Het ORGEL 97 (2001), nr. 6, 25-31 [summary]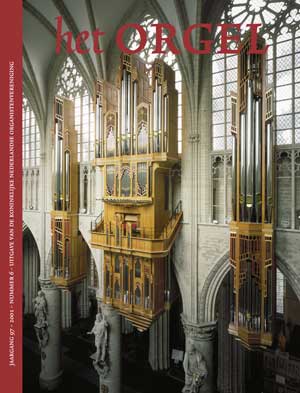 Recently, two organ projects were completed in Brussels: the new Grenzing ogan in the Cathedral and the restoration of the 19th-century Loret organ in the Finisterraekerk.
The organ history of the Cathedral begins in the 15th century; little is known about the first period. In 1706, Forceville built a new organ. In 1714, he again made a new organ since the first one was rejected. In 1804, the Forceville organ was moved to a different place in the church. In 1829, De Volder rebuilt the instrument; in 1918, Lemercinier changed it considerably. In 1989 it was taken down, together with its balcony.
Cathedral organist Jozef Sluys initiated the building of two choir organs by Patrick Collon (1973 and 1976).
The new organ hangs on the north wall of the nave. It was built by Gerhard Grenzing (Barcelona), its front was designed by Simon Platt (Barcelona). It has three cases: a main case and two pedal cases. The key action is mechanical, the stop action electric. It has 63 stops on four manuals and pedal. Noteworthy is that the organ has an Italian-style Voce umana, as well as a French Douçaine and German baroque organ stops. The instrument is voiced without nicking.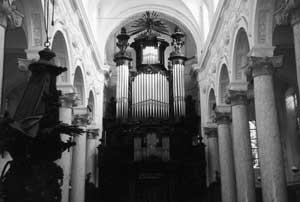 The organ in theFinisterraekerk was built in 1857 by Hippolyte Loret, who was known for his technicalinnovations and characteristic sound conception. In 1953, the organ was rebuilt (withelectropneumatic action) by Delmotte. In 1970, the instrument was damaged by water from afire-extinguisher . The recent restoration was carried out by the organ builders Thomas.Jean Ferrard was consultant. The organ has 31 stops on three manuals and pedal.
Links Brussel cathedral:
http://www.pilarcabrera.com/grenzing/organo-bruselas/index.htm
http://www.semorg.yucom.be
http://www.ping.be/semorg/