A noteworthy organ for the Hofkerk in Bergeijk by Jos Laus
by Jos Laus | Het ORGEL | Year 97 | (2001) | Issue 6
Jos Laus

A noteworthy organ for the Hofkerk in Bergeijk
Het ORGEL 97 (2001), nr. 6, 32-35 [summary]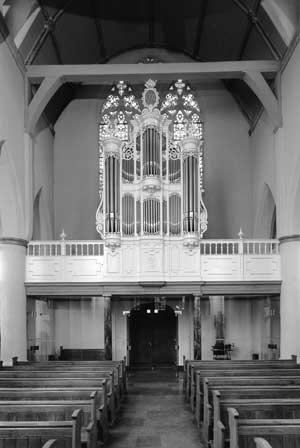 At Pentecost, an organ based on the work ofMaarschalkerweerd was inaugurated in the Hofkerk in Bergeijk. The original instrument wasbuilt in 1902 by Michaël Maarschalkerweerd for the Hervormde Kerk in Geervliet. It waspneumatic and had eight stops on one manual. In 1985, the Witte organ from the Geertekerkin Utrecht (1874) was moved to Geervliet, making the Maarschalkerweerd organ redundant.
In Bergeijk, organ builder Nico Slooff used mostly original material from otherMaarschalkerweerd organs to make an instrument based on what was left of the Geervlietorgan. It has mechanical action and 21 stops on two manuals and pedal. Jos Laus wasconsultant.
The Hofkerk had had a Van den Bijlaerdt organ since 1888. This instrument was replacedin 1940 by a new Vermeulen organ. When the parish moved to a new church in 1966, the organwas moved as well. On this occasion, it was made electropneumatic and extended. When theparish moved back to the Hofkerk, the instrument was discarded.