Italian organ building since 1960 by Wijnand van de Pol
by Wijnand van de Pol | Het ORGEL | Year 97 | (2001) | Issue 4
Wijnand van de Pol

Italian organ building since 1960
Het ORGEL 97 (2001), nr. 4, july/august 21-27 [summary]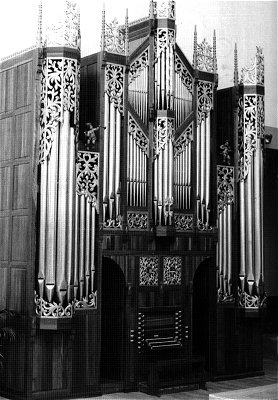 In the 1960s, theinfluence of the Orgelbewegung began to be felt in Italy. Luigi Ferdinando Tagliaviniacted as a pioneer by designing new organs following the instruments built by ancientItalian masters such as Antegnati, Callido and Serassi. The success of the three-manualtracker-action organ in Santa Maria dei Servi at Bologna in 1967 convinced most Italianorgan builders to follow this new direction.
Barthélémy Formentelli became quite well known when he built the first complete newtracker organs in Northern Italy. He convinced other organ builders, such as Mascioni,Ruffatti, Pinchi, Pedrini, to do this as well. Since 1980, a number of small organbuilding firms builds instruments in Northern European style in order to meet the demandsof a large number of young organists: they want to play Bach and consider the historicallyoriented Italian organ unsuited to his music.
In the 1990s, the future of Italian organ building was discussed thoroughly at threecongresses, called 'L'organo italiano oggi e domani', in Imola, Battipagliaand Treviso. But the opinions about this matter are still diverse. A big problem in thisrespect is also the lack of interest in organ art in the Roman Catholic Church.