The König/Verschueren organ in the Paterskirche at Kempen (Germany)  by Peter van Dijk
by Peter van Dijk | Het ORGEL | Year 97 | (2001) | Issue 3
Peter van Dijk

The König/Verschueren organ in the Paterskirche at Kempen (Germany)
Het ORGEL 97 (2001), nr. 3, 13-16 [summary]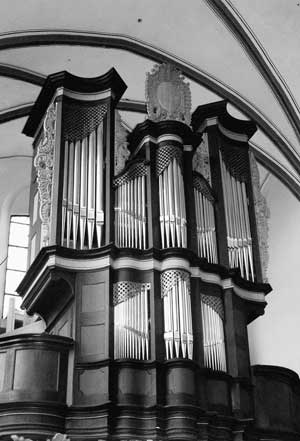 In 1752 Ludwig König built a two-manual organ in thePaterskirche at Kempen. In 1848 Joseph Koulen changed the instrument. In 1917 the frontpipes were removed for the arms industry. In 1925 Weigle built a new instrument in theKönig case. The organ was dismantled in 1979.
Ute Gremmel-Geuchen initiated the reconstruction by Verschueren Orgelbouw (1996-2000).The original concept was enlarged; the organ has a pedal division now, situated behind theoriginal case.
The organ is very versatile. Not only 18th-century music sounds well, but even Brahms,since the 8' stops can be combined. The Cornet and reeds make classical French organmusic sound convincing as well.
Website: http://koenig-orgel.de/