The Van Covelens organ in the St.-Laurenskerk at Alkmaar by Wim Diepenhorst and Rogér van Dijk
by Wim Diepenhorst and Rogér van Dijk | Het ORGEL | Year 97 | (2001) | Issue 3
Wim Diepenhorst and Rogér van Dijk

The Van Covelens organ in the St.-Laurenskerk at Alkmaar
Het ORGEL 97 (2001), nr. 3, 5-12 [summary]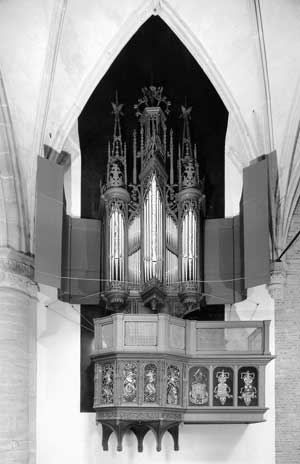 The oldest playableorgan of the Netherlands has been extensively restored by Flentrop Orgelbouw. It wasre-inaugurated on 27 October 2000.
The organ was built in 1511 by Jan van Covelens. It had one manual and the pipes weredivided over two chests. The instrument was changed quite a few times since then: by ClaesWillemsz. (1545, extension), Allart Claesz. (1551, he probably added a Pedal with aTrompet 8), Jan Jacobsz. van Lin (1625, extension), Levijn Eekman (1630, new bellows),Jacobus van Hagerbeer (1651, maintenance), Johannes Duytschot (1685 and later, probablyaddition of a divided manual coupler), Pieter Müller (1799), Michael Körnlein (shortlyafter Müller), Dirk Sjoerds Ypma (1844, maintenance), Carl Friedrich August Naber (1854,changes), L. Ypma & Co. (1894, restoration and changes), H.W. Flentrop (1939, ditto).
On the occasion of the restauration in 2000, the consultants Jan van Biezen, Koos vande Linde en Hans van Nieuwkoop chose, together with the organ builder, to reconstruct thesituation of 1511 with respect to the Hoofdwerk; on the Borstwerk, material of Van Linsurvived. The situation of 1651 was chosen as a reference for the restoration of the case.
Although we have few references when it comes to review the sound, as a result of ageneral lack of knowledge about Van Covelens and his time, the restoration certainlydeserves respect: the instrument sounds wonderful and playing it feels like taking a tripthrough time.