The history of organ music and the accompaniment of congregational singing by Herman de Kler
by Han Leentvaar | Het ORGEL | Year 96 | (2000) | Issue 6
Herman de Kler

The history of organ music and the accompaniment of congregational singing
Het ORGEL 96 (2000), nr. 4, 27-36 [summary]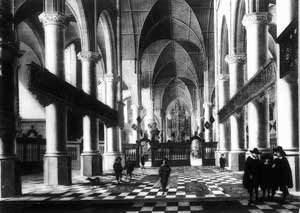 For centuries now the traditional 'gereformeerde'(reformed) way of singing psalms and hymns has been described negatively. ConstantijnHuygens called it 'yelling' and recalled lack of consistency with respect topitch and meter. Others criticised the slow tempo and the lack of rhythmic variety. These,however, were part of the heterophony: the congregation sang unaccompanied, applieddynamic changes to express the affects of terms like 'Scripture', and took itstime. It was an intriguing procedure: creative chaos led to new harmony.
Historians followed the critics of this practice. Can one draw other conclusions fromthe intellectual observations of the critics as well? In 17th-century psalm settings,composed for secular organ concerts, the cantus firmus of the Genevan psalter is usedexactly; the arrangements can hardly serve as instructive with regard to the way thecongregation sang. In improvisations this way of singing was sometimes imitated, but18th-century accompaniment books cultivated heterophony as well. This indicates that theneed to reject it was not as strong as some historians believe.
The continuous and enthusiastical playing of profane music on the organ fit the churchvery well, considering its function as a public building, open to anyone. It isundesirable to reject this practice now because a small group did so then.
Major changes occurred for the first time when, after the Second World War, so-called'rhythmic singing' was introduced. The traditional way of singing, whichoriginated in the middle ages, represented then a cultural lag. Congregational singing wasmodelled into unison chorus singing. The history of congregational singing in The Hague isan excellent example of this development.