The Göteborg International Organ Academy 2000 by Christa Hijink
by Christa Hijink | Het ORGEL | Year 96 | (2000) | Issue 6
Christa Hijink

The Göteborg International Organ Academy 2000
Het ORGEL 96 (2000), nr. 6, 5-13 [summary]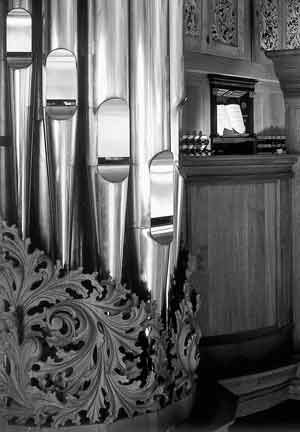 On 4-18August, the Göteborg International Organ Academy took place: 36 lectures, 14 paneldiscussions, 53 workshops, many concerts and 1 great inauguration – that of the neworgan in the Örgryte Nya Kyrka, built in 17th-century North-German style.
Pamela Ruiter-Feenstra discussed baroque dancing and music in a workshop in which thestudents had to dance themselves in order to understand movement in music. David S. Knightpresented in a panel discussion his database of 15.000 organ recordings, meant to explorethe history of 20th century organ history. Other interesting discussions focused onergonomics and organ playing and on Bach in 19th-century France.
The building of the Örgryte organ was a project in which organ builders, musicologistsand engineers worked together in an international organ laboratory. Hans Davidsson, theleader of the Göteborg Organ Art Center, said that the organ was not a copy nor areconstruction, but an approximation. The bases of this approximation are the Schnitgerorgans in Hamburg (St.-Jakobi) and Lübeck (Dom). Special attention was paid to the pipematerial and the wind system. Eventually, all material was cast on sand, and the organ wasbuilt with three different basic options for winding.
Among the concerts, in particular the concert at the Dom was impressive: duringLigeti's Volumina, Hans Davidsson danced a commentary. At the inauguration of the neworgan there was dance as well.
A book documenting the organ building project is in preparation at the moment.