Gerard Bunk (1888-1958)
by Han Leentvaar | Het ORGEL | Year 96 | (2000) | Issue 2
Jan Böcker

Gerard Bunk (1888-1958)
Het ORGEL 96 (2000), nr. 2, 5-11 [summary]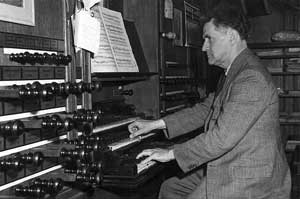 Gerard Bunk was born in 1888 in Rotterdam. As anorganist he was self-taught. After a study tour through England and Gemany, he wasappointed piano and theory teacher at Bielefeld (Germany). In 1910 he replaced KarlStraube at the Reger-Fest in the Reinoldikirche at Dortmund. This church possessed a newWalcker organ, built according to the principles of the Organ Reform propagated in theAlsace. In 1925 Bunk was appointed organist at the Reinoldikirche. Organ and church weredestroyed in 1944. Bunk died in 1958.
Bunk was on friendly terms with Max Reger, whose organ music he wished to make morepopular, and with Albert Schweitzer. He wrote his most important organ works in his youth:Variationen und Fuge über ein altniederländisches Volkslied (opus 31, 1908), Legende(opus 29, 1908), Sonate (opus 32, 1909), Passacaglia (opus 40, 1911), Fantasie (opus 57,1915), Musik für Orgel (opus 81, 1939).
Bunk's most successful composition were the Variationen. The theme was the17th-century Dutch hymn Hoe groot o Heer. Arnold Mendelssohn criticised the Variations: hedisapproved of the proportions of the final fugue and of the bombastic final choral. Thestyle of Bunk's compositions does resemble the style of Jan Zwart and Jacob Bijster.Bunk shared with them a traditional and romantic attitude and rejected experiments thatexceeded the bounds of tonality.