The Garrels organ in the Oud-Katholieke Kerk at Den Haag
by Han Leentvaar | Het ORGEL | Year 94 | (1998) | Issue 4
Peter van Dijk

The Garrels organ in the Oud-Katholieke Kerk at Den Haag

Het ORGEL 94 (1998), nr. 4, 16-22 [summary]
In 1994 Flentrop Orgelbouw reunited the parts of the Garrels organ of the Oud-Katholieke Kerk at Den Haag, which had been used in several other organs. Klaas Bolt was advisor; after his death Hans van Nieuwkoop took over. Recently a book was published, dealing with this organ and its history: Het Garrels-orgel in de Oud-Katholieke Kerk in Den Haag (Den Haag 1997), with contributions by A.J. Gierveld (Garrels's life and works) and Hans van Nieuwkoop (who suggests that Garrels may have been working with Christian Müller).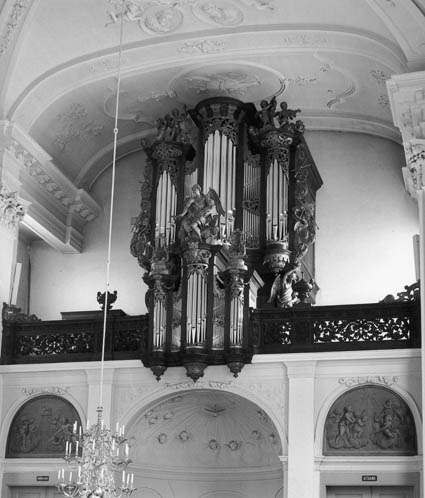 The Garrels-organ in the Oud-Katholieke Kerk at The Hague
Photo Flentrop Orgelbouw
Garrels replaced the Rugwerk Mixture in 1734 with an Holpijp. After that the organ was repaired in 1810/1825 (Friederichs), 1833 (Bätz) en 1876 (Witte). In 1910 the interior was replaced by a new one (Spit). Chest and pipes of the Rugwerk were used in a new organ at Zeist in 1914; chest and pipes of the Hoofdwerk were used in a new organ at Vollenhove in 1918 (Sanders). The Stichting Reconstructie Garrels-orgel strived for the reunion of the parts since its establishment in 1973. Additional pipes, the action and the manuals were reconstructed, where possible after examples of other Garrels organs.
The dispositions of the Garrels organs at Anloo (1718), Maasland (1725) and Den Haag, Lutherse Kerk (changed by Garrels in 1724) and Oud-Katholieke Kerk show influences of Schnitger (Anloo), and Dutch influences (Maasland: several Sesquialteras and Cornets, Quintadeen-Baarpijp-Vox humana on one manual). Furthermore Garrels's organs show especially in the artistic variation of their mensuration the creative master organ builder. His organs can be characterised by a single word: distinguished.